Guidelines:
Positive News ONLY.
Anything related to the 242.
Personal/Organizational/Educational/Social/Sports/Religious (and yes some positive Political) Related news.

If sending pictures please make sure they are clear and saved in .jpeg format.
All write-ups must be no more than 3-5 paragraphs long.
All proper contacts - full name, email and phone numbers - must be given.

I do "handpick" what is showcased on the blog which is mostly focused on Non-Profit Organizations, Schools, Entrepreneurs and Events or Ordinary People promoting positive places and things going on around The Bahamas.

Please keep in mind this is a FREE service and I will try to get to any and all submissions in a timely manner.

I also reserve the right to reject any submissions I deem not suitable for the vision of this site.

You can email your story submissions to:
lecia.russell@gmail.com
---
Wish to advertise?

The majority of GoodNews242 is FREE as I am seriously on a mission to assist in making some positive changes happen within the 242 and its people. I do work full-time and I am a single mother of 1 son. GoodNews242 is my "Change Begins With Me" catalyst.


​
​​
DISCLAIMER:

This policy is valid from 06 October 2015

This blog is a personal blog written and edited by me. For questions about this blog, please contact Lecia Russell at getgoodnews242@gmail.com.

This blog does not accept any form of cash advertising, sponsorship, or paid topic insertions. However, we will and do accept and keep free products, services, travel, event tickets, and other forms of compensation from companies and organizations.

The compensation received may influence the advertising content, topics or posts made in this blog. That content, advertising space or post may not always be identified as paid or sponsored content.

The owner(s) of this blog is not compensated to provide opinion on products, services, websites and various other topics. The views and opinions expressed on this blog are purely the blog owners. If we claim or appear to be experts on a certain topic or product or service area, we will only endorse products or services that we believe, based on our expertise, are worthy of such endorsement. Any product claim, statistic, quote or other representation about a product or service should be verified with the manufacturer or provider.

This blog does not contain any content which might present a conflict of interest.

To get your own policy, go to http://www.disclosurepolicy.org
---
Goodnews242 is dedicated to sharing inspiring and positive news and events from around the Bahamas.
---
Powered by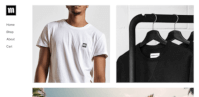 Create your own unique website with customizable templates.