Today my coworker and I decided to give Gourmet Lunch Specials a try. We both kept seeing it popping up on our feed on Facebook. Obviously this is how you know the Facebook ads do work lol. They DELIVER so we were ecstatic about that!!

We checked out their menu for today which was:
PASTA TUESDAY!!! Jerk Chicken OR Shrimp OR Lobster Fettuccine w/ Pink Sauce served w/ Homemade Garlic Rolls. Dessert & Beverage OR Apple Walnut Chicken Salad w/ Pomegranate Vinaigrette.

I got the Jerk Chicken Fettuccine with Pink Sauce served with Homemade Garlic Rolls.
​It came with a drink ... Lemonade.

Phone: 324-0870/423-8002/3




Email: Caribaycuisine@gmail.com,




Email: gourmetlunchspecials@gmail.com

Well firstly I am big eye at times when it comes to food (and for me spending anything more than $8.00 on lunch is like a stretch) so when I saw the amount for $15.00 I was pretty much satisfied with it. Money is very tight so I try to find places where if it is more than $8.00 I can get more than 1 serving out of it and share with my son.

Delivery time was about 30-45 mins and I was for me OK with that as pizza delivery is sometimes that same time frame. Hey I was just glad we found someplace that delivered!!!

Now when it came to the taste I was impressed. I am a pepper fan ... I mean spicy is my favorite on most things despite me having heartburn issues right after but that is neither here or there. The jerk was just right for me made me cough a little (you know THAT lil cough you do when it's kind of hot where you like it but it shocks your system a little bit? ... yeah that!) but I did really like the flavor. The sauce for me was just a little thick but then again I am just weird when it comes to sauces lol ... but it was very nicely paired with the jerk chicken. The bread was nice and soft I could have used a bit more garlic butter on it but here again I am just a freak for butter and garlic especially on rolls. The drink for me was a bit on the sweet side and THAT is shocking coming from me as I am someone who loves a good sugar rush! :-)

Overall it was pretty good and I will probably try to patronize them again in the future. I really could not eat all of it, so I saved the rest for my son to have his dinner.

**Note they do state that some of their images shown on their page are actual pictures of their dishes and sample pictures (I am assuming internet pictures) ... I usually do get concerned when I spot this type of thing but I did not let that deter me today and I am glad that I didn't.
Powered by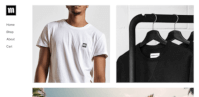 Create your own unique website with customizable templates.